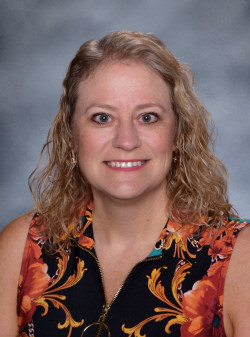 Dr. Jennifer Griffith has been named the new Principal at DuBray Middle School. Griffith, who has been an assistant principal at the school for 18 years, assumes her new role beginning July 1. Up to now, her role as the 8th-grade Assistant Principal has focused on students' final high school preparations. In addition to supporting students, Griffith also has been focused on supporting teachers and families. Working together provides a network to help best meet students' academic and social needs.
"I am looking forward to connecting with all three grade levels of middle school students and staff as opposed to focusing on just the 8th grade, Griffith says. "I am also looking forward to bringing back opportunities for students and parents to spend time at DuBray Middle School outside of the school day. Parties, festivals, social events and evening activities help us get to know each other as a community."
Griffith's priorities are to grow student leadership opportunities; to grow staff through professional development and to strengthen connections between DuBray Middle and East High, where students attend beginning in 9th grade.
Outside of work, she and her husband enjoy spending time with their four adult children. This time of year, Griffith enjoys spending time at the pool and reading. She says her favorite stories are detective fiction, thrillers, mysteries, and true crime.